Cruise and Vacation Specialist - Marianne Vogel, CTC
Group Tours
Group tours and bus trips — relaxing, enjoyable and stress-free. Go with a friend, a group of friends, or go alone and meet new friends. Bus trips are a wonderful way to see new places or re-visit old haunts without the worry of driving.
Marianne has over one million miles of bus tour experience and she organizes trips to take you sightseeing, shopping, or traveling. Cross-border shopping trips, the leaves in the autumn, Mennonite Country and more. Watch for the latest trips right here... or contact Marianne to find out what's in the works!
And... don't forget about group tours to Europe, the Orient, the Middle East, deepest, darkest Africa, and around the World.
Contact Marianne to Book Now!
Cruises
Cruising -- the ultimate vacation
Leave your cares at home and enter another world aboard one of the many cruise lines that we represent -- one that is perfect for you!
Cruises offer great value for your vacation dollar because the fares include nearly everything you'll need for a fantastic trip: food, accommodations, daytime and evening entertainment and transportation between destinations.
Contact Marianne to Book Now!
Vacations
Don't plan your next trip without a travel consultant.
Give yourself the peace of mind that comes from knowing the details of your "hard-earned" vacation have been looked after by a professional.
Marianne will organize your plans, book the flight or train, the shuttles, your hotel and car and provide you with all the advice and information you will need to make your next trip worry-free.
Contact Marianne to Book Now!
About Marianne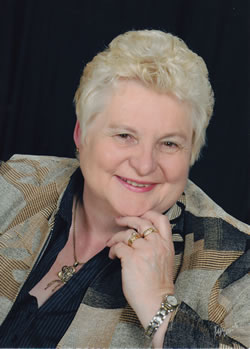 Marianne Vogel has been in the travel industry since 1983 and has many years — and millions of miles — experience in both leisure and corporate motor coach group travel, vacation planning, cruise vacations and travel organization. As a travel counsellor, Marianne offers her clients efficient, professional service, competitive pricing, and access to high quality, reliable, vacation choices. 
As a Certified Travel Counsellor and Cruise Specialist, Marianne has the education and experience to make your vacation experience memorable. Her education credits include
Advanced Certification with the Canadian Institute of Travel Counsellors
Princess Cruise Line Commodore
Five-Star Agent for Holland America Cruise Lines
Royal Caribbean Cruise Line Specialist
Aruba Certified Agent
Costa Rica Specialist
Holland Travel Specialist
Rediscovering Canadian Travel Specialist
Sandals Certified Agent
Marianne has been coast-to-coast, organizing and guiding many tours across the country, and has travelled extensively throughout the world. She continuously upgrades her education to stay on top of the latest trends and properties.
Call her for your special trip that needs a special touch — or for an airline ticket to vacation or visit family or friends back home!
Contact Marianne
(905) 627-0272
(905) 577-1814
(905) 627-0432
Reservations for air, sea, rail or bus travel
Travel insurance
Travel passes, theatre tickets and much more in those far-away places
Rentals of accommodations and vehicles
Destination Weddings and Honeymoons
Memorable Anniversary travel plans
Adventure Travel plans
Group Travel plans